XJDeveloper is a graphical application that allows you to quickly and easily set up and run tests on your circuit. With XJDeveloper you can reduce your time to market by reusing your test scripts all the way through the product design process and then in manufacturing.
The simple drag-and-drop interface allows you to set up your JTAG chain and categorise all of the non-JTAG devices in your circuit easily. XJDeveloper includes built-in Layout Viewer,Schematic Viewer and DFT Analysis tools, along with Netlist Explorer to view connectivity between devices.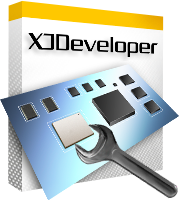 XJDeveloper can also be used to program both JTAG devices (e.g. CPLDs, FPGAs) and non-JTAG devices (e.g. EEPROMs, Flash).