HOME | PRODUCTS | SERVICES | PARTNERS | SUPPORT | ABOUT | CONTACT US



emWin – Interesting Demos!
Here are some very INTERESTING demos developed using SEGGER emWin.

You can also request on-site demos from ESS team!
emWin Demo for TOSHIBA Sports Watch

Toshiba has developed a sport watch reference model that combines accelerometer, MEMS gyroscope, MEMS magnetometer, pulse rate monitoring, wireless charging and Bluetooth radio technologies in a compact package.
Embedded World 2016: SEGGER emWin
SEGGER's latest IoT demonstration is based on the Atmel | SMART SAMA5 along with a 7-inch maXTouch screen. As you can see in the video, emWin is designed to provide an efficient, processor and LCD controller-independent graphical user interface for any application ranging from weather forecasts to washing machines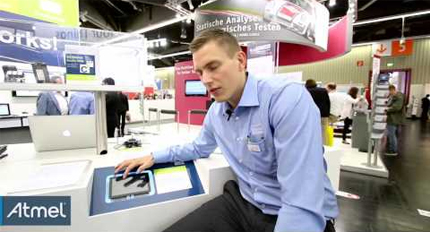 Customer Testimonials
"Since experts in embedded graphics design have written SEGGER's graphics libraries, there has been no need to spend time developing and debugging the graphics in my program. All developers need to do is include SEGGER's libraries into their code - and the display segment of their application is complete. Since only the portion of the library you are using is compiled, your application is less likely to bloat past your memory footprint, too."

"I would strongly recommend using SEGGER's emWin graphics library. The code is extremely well written and will help developers significantly shorten their time to market."
- Rob Hickman, Chief Engineer, Advanced Control Systems Inc., U.S.A.
"This LCD library is very good. With your help, we will have an impressive demo. We will allow the user to switch between several bitmap graphics, show one graphic with real-time status superimposed over the graphic, and have several menus which show the current selection highlighted and allows the user to choose from several options. "

"Thanks again. I have been very impressed with your library. We appreciate your efforts in creating a custom library in a timely manner."
- Doug Bohls, Enfora Inc., U.S.A.
SEGGER emWin
- IT SIMPLY WORKS!
emWin is designed to provide an efficient, processor- and LCD controller-independent graphical user interface (GUI) for any application that operates with a graphical LCD.

It is compatible with single-task and multitask environments, with a proprietary operating system or with any commercial RTOS. emWin is shipped as "C" source code.

It may be adapted to any size physical and virtual display with any LCD controller and CPU.

Segger software products include: embOS (RTOS), emWin (GUI), emFile (File System), emUSB-Device (USB device stack), emUSB-Host (USB host stack) and embOS/IP (TCP/IP stack). With emSSL and emSecure, a unique software to generate and verify digital signatures, SEGGER is offering solutions for secure communication as well as data and product security, meeting the needs of the rapidly evolving IoT.