Extensive Block Libraries for Embedded Systems

Using solidThinking Embed, you can build a model of your entire system, including the control algorithm and the plant. The control system can be built in scaled, fixed-point arithmetic, while the plant is built in full-precision, floating point arithmetic. For model construction, Embed provides extensive block libraries, including:
TI C2000 Motor Control block library.
TI InstaSPIN block library.
On-chip peripheral block library.
Fixed-point block library.
Motor block library.
State Charts

solidThinking Embed supports OMG UML 2.1 compliant graphical state chart editing, simulation and code generation. Combined with a built-in C interpreter, this allows fast and reliable development of complex control applications. Whether you need to decode a serial protocol or step through a complex start up or shut down sequence, the State Chart block library accelerates these tasks.

For Example: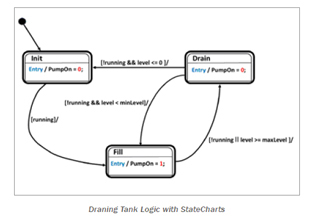 Diagram-to-Code

solidThinking Embed generates efficient and compact ANSI C code for discrete, continuous, and hybrid systems. MCU target support includes a report to display the COFF section sizes of the generated execution file.

For example, code generated for closed-loop motor control Ė including PI controller, digital output, PWM, and encoder peripherals - runs at 300KHz on a 150MHz F28335 MCU.

The memory footprint is:

Code size: 2095 bytes
Initialized data: 501 bytes
Uninitialized data: 504 bytes

Interactive Hardware-in-the-Loop Simulations

In MCU-in-the-loop simulation, the plant model runs on the host computer in solidThinking Embed while the control algorithm runs in real time on the target MCU. Real-time communication between the target MCU and Embed is performed via a JTAG hotlink. Embedís GUI is retained while you tune parameters and monitor real-time data. Embed also supports a PIL-synchronous communication mode that runs the target in lock step with the simulation, allowing easy verification of embedded algorithms.

For Example: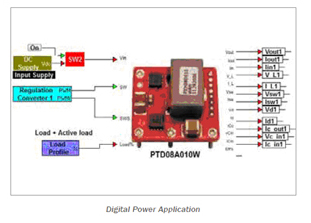 Scaled, Fixed-Point Algorithms

The Fixed-Point block library lets you perform simulation and efficient code generation of scaled, fixed-point operations. Overflow and precision loss effects are easily seen and corrected at simulation time. Auto-scaling speeds fixed-point development, while in-line code generation creates fast target code. Target Hardware Support The target-specific blocks let you easily program on-chip devices. These blocks include analog ADC, ePWM, eCAP (event capture), SPI, SCI (RS232 serial), I2C, digital GPIO, QEP (quadrature encoder), and CAN 2.0.

Add-ons

solidThinking Embed/ Digital Power Designer

Provides a library of components and subsystem models (including power converters, controllers, compensators, sources, and more) for digital power applications.

solidThinking Embed/Comm

Lets you model end-to-end communication systems at the signal or physical level. It provides fast and accurate solutions for analog, digital, and mixed-mode communication systems.