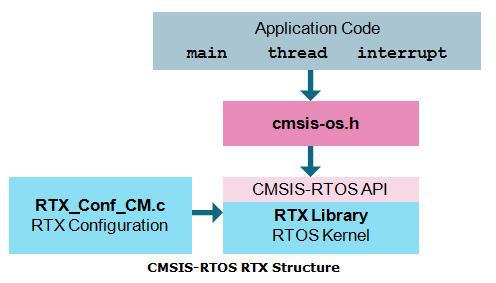 CMSIS-RTOS RTX is a royalty-free, deterministic real-time operating system implementing the CMSIS-RTOS API, a generic RTOS interface for Cortex-M processor-based devices. Keil RTX version 4 implements CMSIS-RTOS v1, whereas Keil RTX 5 implements the latest CMSIS-RTOS v2 API.
Modern microcontroller applications frequently have to serve several concurrent activities. RTX manages the switching between the activities. Each activity gets a separate thread which executes a specific task and to simplify the program structure. CMSIS-RTOS RTX is scalable and additional threads can be added easily at a later time. Threads have a priority allowing faster execution of time-critical parts of a user application.
CMSIS-RTOS RTX offers services needed in many real-time applications, such as periodical activation of timer functions, memory management, and message exchange between threads with time limits.