Keil Software development tools for the 8051 support every level of software developer-from the professional applications engineer to the student just learning about embedded software development. The industry-standard Keil C Compilers, Macro Assemblers, Debuggers, Real-time Kernels, and Single-board Computers support ALL 8051 derivatives and help you get your projects completed on schedule.
PK51 Professional Developer's Kit

The Professional Developer's Kit for the 8051 microcontroller family (part number PK51) supports all 8051 derivatives including new devices with extended instruction sets and address space (like the Dallas 390/5240/400, Philips 51MX, and Analog Devices MicroConverters).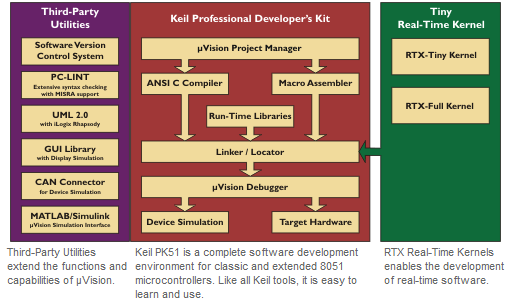 Evaluate the C51 Development Tools