Altium Designer is an electronic design automation software package for printed circuit board, FPGA and embedded software design and associated library and release management automation.

Altium continues its focus on delivering user-focused, easy-to-use and performance-enhancing PCB design tools as part of a single price solution with the introduction of Altium Designer 18.


HIGH PERFORMANCE MADE SIMPLE
Altium Designer 18 significantly enhances user experience and productivity using a modern interface to streamline your design workflow, while enabling unprecedented performance optimization with 64-Bit architecture and multi-threading.
When you have the latest version of Altium Designer, you can rest assured you have the most powerful, modern and easy-to-use PCB design technology at your fingertips.
You can create interconnected multi-board projects and render high density, complex PCB assemblies quickly and accurately. The modern user interface, along with updates to enhance routing, BOM creation, rule-checking, and manufacturing hand-off capabilities, enable you to design more efficiently and productively than ever.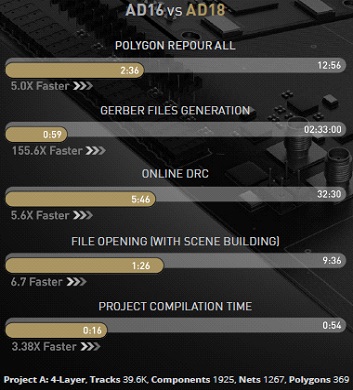 KEY BENEFITS OF ALTIUM DESIGNER
Easy - Experience the most cohesive, user-friendly interface for you to achieve productivity right "out-of-the-box."
Powerful - Attain the power you need to complete large, complex designs – quickly and accurately.
Modern - Get the latest design tools today with the guarantee of continuous innovation in the future - year after year.
WHAT'S NEW IN AD18
Powerful PCB Design - 64-bit architecture and multi-threaded task optimizations let you design and release large, complex boards faster than ever.
Modern Interface Experience - New, cohesive user interface provides a fresh and intuitive environment, and optimizations that enable unparalleled visualization of your design workflow.
Interconnected Multi-Board Assembly - Connectivity management and enhanced 3D engine allows you to render design models and multi-board assemblies – faster and with better shading and realism.
Fast and High-Quality Routing - Visual Constraints and user-guided automation enables you to route complex topologies across layers – routes at the speed of a computer, but the quality of a human.
Real-time BOM Creation - Latest supplier part information linked to the BOM enables you to make educated design decisions – on your own timeline.
Seamless PCB Documentation Process - Document all assembly and manufacturing views in a single, cohesive design environment, with linked source data for updates at the push of a button.
CAPABILITIES OF ALTIUM DESIGNER
Schematic Capture - Design electronics faster with hierarchical schematic and design reuse in one cohesive user interface.
Component Management - Create and search for components with the most up-to-date pricing and availability from certified suppliers.
Design Verification - Verify your design with built-in mixed analog / digital circuit simulation. Analyze pre- and post-layout signal and DC power delivery.
Board Layout - Easily maneuver objects on the board layout with controlled component placement and create layer stack templates for reuse.
Rigid-Flex and Multi-Board - Define and modify rigid-flex layer stacks using electrical checking and synchronization of multi-board connections.
Interactive Routing - Expertly route complex topologies with user-guided, constraint-driven routing automation.
MCAD Collaboration - Simplify MCAD collaboration through integrated electrical and mechanical domains with NATIVE 3D PCB editing.
Manufacturing Outputs - Generate fabrication and assembly outputs faster with multi-process executions and seamless, streamlined documentation.