Altium's NanoBoards are unique, reconfigurable hardware platforms that harnesses the power of today's high-capacity, low-cost programmable devices to allow rapid and interactive implementation and debugging of your digital designs .
With the NanoBoard connected to a PC running Altium Designer – the world's first truly unified electronic design system – you can develop, implement, test and bring to market more intelligent digital products faster than previously possible.
Target programmable devices such as FPGAs and processors are housed on plug-in daughter boards, allowing you to easily change the project architecture and providing a truly device and vendor-independent development solution.
Use the NanoBoard as a system prototyping and development platform, as an educational hands-on teaching tool, or as a standalone product running a custom system design. Its power, flexibility and tight integration with Altium Designer opens up the exciting possibilities of soft system design to you today
Desktop Nanoboard
ALTIUM NANOBOARDS : NB3000
Rapidly prototype designs from your desktop
Altium's NanoBoards are unique, reconfigurable hardware platforms that harness the power of reprogrammable devices to allow interactive, vendor-independent implementation and deployment of your electronics designs.
Quickly develop, test, and demonstrate design ideas in real life situations using real life hardware.
Get instant connectivity, NanoBoard and Altium Designer can implement internet connectivity with a few mouse clicks.
Easily and graphically construct FPGA based embedded systems with Altium Designer.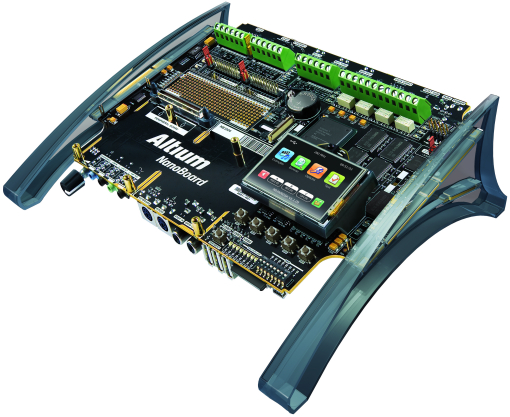 There are three variants available in the series:
NanoBoard 3000XN – Xilinx variant, incorporating a Xilinx Spartan-3AN device (XC3S1400AN-4FGG676C) as the User FPGA.
NanoBoard 3000AL – Altera variant: incorporating an Altera Cyclone III device (EP3C40F780C8N) as the User FPGA.
NanoBoard 3000LC – Lattice variant: incorporating a LatticeECP2 device (LFE2-35SE-5FN672C) as the User FPGA.